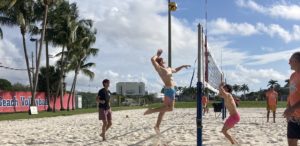 Great Life Chiro presents
ELITE BEACH VOLLEYBALL TRAINING CAMP
9am-2pm Daily
 Learn from Canadian Beach Volleyball Olympian - Sam Schachter
Coach Sam will lead all sessions.
Athletes will refine their skills, technical fundamentals and specific positional play.
3rd Day King of the Beach Competition
FAU University, Beach Courts, Boca Raton, FL
Cost: $225 per athlete for 3 days/$295 after January 1/24
Sandx Exercise in the Sand - with Great Life Chiropractic, Deerfield Beach
Tuesdays, 9 - 10am weekly
Discover the benefits of exercise in the sand to help your nervous system through grounding for enhanced stability, mobility, balance, coorination, flexibility and leg strength.
Bring a water bottle, towel and bare feet.
Crystal Heights Park South, Deerfield Beach
Complimentary to GLC practice members. $10/session drop in for non GLC practice members.