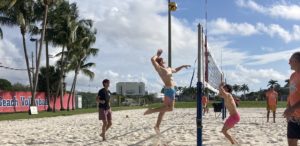 Great Life Chiro presents
Sandx Beach Volleyball 8WK Training 2023
June 5th to July 31st, 2023 (no training July 24th)  Mondays weekly, 6:30-8:30pm
Premier Beach Training for boys.
Technical skill training development.
Locations: Various sand courts - Boca Raton & Deerfield Beach
8 total training sessions. Cost is $135 per athlete. Drop ins will be $20/night
Sandx Exercise in the Sand 2023
Tuesdays, 9am to 10am weekly
Discover the benefits of exercise in the sand to help your nervous system through grounding for enhanced stability, mobility, balance, coorination, flexibility and leg strength.
Bring a water bottle, towel and bare feet.
Crystal Heights Park South, Deerfield Beach
Complimentary to GLC practice members. $10/session drop in for non GLC practice members.